Découvrez ClearRT™* pour le système Radixact®
Le système d'imagerie kV hélicoïdale haute fidélité qui permet :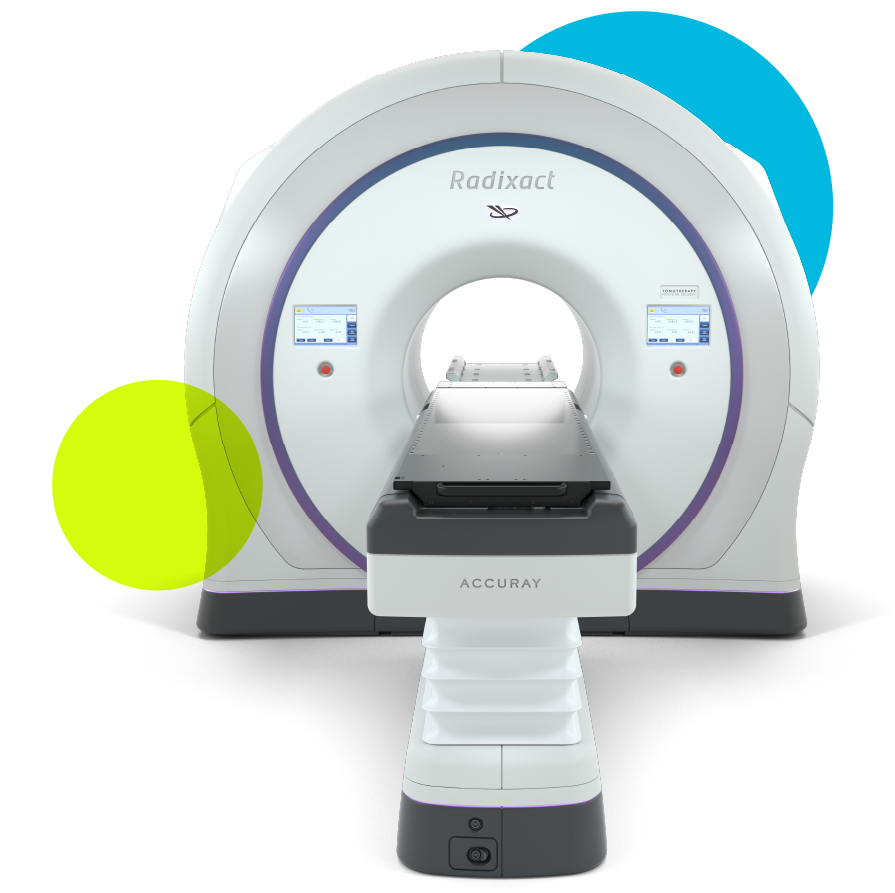 Découvrez le système Radixact®
Le système Radixact, la dernière génération de la plateforme TomoTherapy® est un système de radiothérapie à modulation d'intensité, guidé par imagerie 3D qui permet de créer des traitements personnalisés pour un grand nombre d'indications, indépendamment de la complexité ou du nombre de tumeurs.
Un modulateur binaire et un mode d'administration hélicoïdale uniques
Les doses sont sculptées pour cibler la tumeur précisément et éviter les tissus sains
Moins de rayons sur les tissus sains, ce sont moins d'effets secondaires
Plusieurs zones peuvent être ciblées en un seul traitement
Un guidage par imagerie 3D quotidien
L'imagerie de TomoTherapy® permet de contrôler les doses délivrées avant chaque séance
Le traitement peut être réadapté sur mesure conformément aux changements anatomiques,
si nécessaire
Ainsi, le traitement initialement prescrit est respecté
Un système de planification des traitements en temps réel flexible et performant
Nouvel algorithme qui donne plus de flexibilité, rapidité et efficacité
permet une analyse quantitative des doses délivrées au jour le jour
à n'importe quel étape du traitement
Le système Radixact permet aux médecins de traiter un large éventail de cancer, des cas traités en routine aux cas les plus complexes, avec une efficacité de traitement accrue. Il est capable de traiter :
les tumeurs de petite ou de grande taille ;
les tumeurs multiples, siégeant dans différentes parties du corps, au cours d'une même séance ou d'un même traitement ;
toutes les indications de la radiothérapie conventionnelle : cancers du cerveau, du sein, de la tête et du cou, du poumon, de la prostate, du rectum, de la colonne vertébrale, pédiatriques.
Plus de 20 ans d'évidence clinique
Patient #1 : Cervical Cancer Treated with ClearRT™ Helical kVCT Imaging on the Radixact® System**
Patient #2: Prostate Cancer Treated with ClearRT™ Helical kVCT Imaging on the Radixact® System**
Patient #3 : Lung Case Treated with ClearRT™ Helical kVCT Imaging on the Radixact® System**
Patient #4 : Female Pelvis Case Treated with ClearRT™ Helical kVCT Imaging on the Radixact® System**
Bénéficiez d'une clarté optimale avec ClearRT™
Le système d'imagerie  hélicoïdale kVCT ClearRT™* permet aux cliniciens d'obtenir des images haute fidélité d'une clarté optimale pour la planification et l'administration de traitement par radiothérapie, au service d'une observation plus détaillée, d'une analyse plus approfondie et d'une administration optimisée du traitement par rapport aux systèmes conventionnels.
Conçu pour offrir une flexibilité maximale, une qualité d'image irréprochable et le plus grand format possible, ClearRT propose des fonctionnalités de pointe capables d'optimiser l'administration du traitement clinique.
Couvrant un mètre par minute, ce système assure le plus long balayage en continu de l'industrie (jusqu'à 135 cm), ce qui facilite et accélère la configuration des cibles étendues et permet de mieux adapter la planification en fonction des besoins. Avec son champ de vision de 50 cm, soit le plus vaste du secteur, ClearRT couvre d'importantes zones d'imagerie sans tronquer l'anatomie environnante, même chez les patients corpulents.
 Grâce à la qualité de pointe et à la précision anatomique des clichés acquis par ClearRT, les cliniciens peuvent positionner rapidement les patients en vue du traitement, et ce, en toute confiance. En association avec le système de suivi de dose automatisé PreciseART®, les clichés ClearRT haute fidélité peuvent servir à déterminer s'il convient d'adapter le plan de traitement, puis à effectuer la replanification au moyen de PreciseRTX®.
ClearRT™ Helical kVCT Imaging for Radixact® Demo
*All demos in English unless specified
Meet with an Accuray representative to see and learn about the latest Helical kVCT Fan-beam Imaging for the Radixact® System.
Click Link to Register for Desired Day/Time
*Le système d'imagerie  hélicoïdale kVCT ClearRT destiné au système d'administration de traitement Radixact® n'est pas commercialisé dans tous les pays. ClearRT peut faire l'objet de processus internationaux d'approbation réglementaire ou d'octroi de licence, d'où sa disponibilité variable selon les régions.
**Patient image & image data provided by Willis-Knighton Cancer Center, Shreveport (LA), USA
Avis de sécurité concernant la radiothérapie :
La plupart des effets secondaires de la radiothérapie, y compris lorsqu'elle est administrée à l'aide des systèmes Accuray, sont légers et transitoires. Les plus courants sont la fatigue, les nausées et les irritations cutanées. Certains effets secondaires graves peuvent toutefois survenir et causer des douleurs, une altération des fonctions normales de l'organisme (fonction urinaire ou salivaire, par exemple), une détérioration de la qualité de vie, des lésions permanentes, voire la mort. Les effets secondaires peuvent se manifester pendant ou peu de temps après la radiothérapie, ou dans les mois et années qui suivent. La nature et la gravité des effets secondaires dépendent de nombreux facteurs, notamment de la taille et de l'emplacement de la tumeur traitée, de la technique de traitement (dose de rayonnement, par exemple) ou encore de l'état de santé général du patient. Adressez-vous à votre médecin pour obtenir de plus amples informations sur les effets secondaires de votre radiothérapie et savoir si un produit Accuray est adapté dans votre cas.