Accuray is dedicated to our customers' success and committed to protecting system uptime so they can continue delivering powerful, precise treatments to their patients.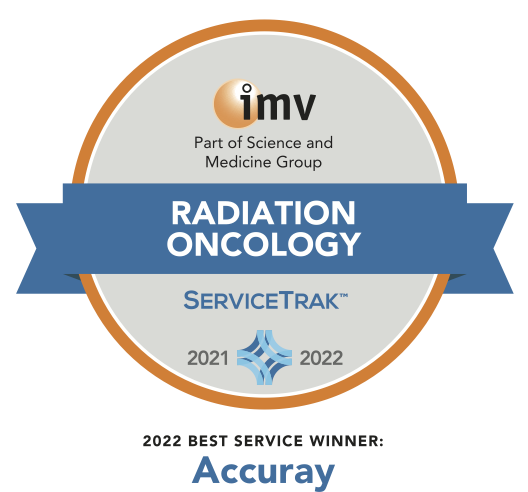 Accuray is committed to delivering better, faster cancer treatment technology and superior service is resulting in highly satisfied customers. According to the IMV ServiceTrak™ Radiation Oncology 2022 report, Accuray achieved the highest score in the industry in Overall Service Performance and was recognized for Best Service in Radiation Oncology. The IMV report includes feedback on radiation therapy technologies used in treating cancer patients in the U.S. and specifically, survey respondents with hands-on experience using Accuray radiation therapy delivery systems.
The Accuray Alliance service program provides comprehensive support and expertise to protect uptime and maximize system performance. From streamlined deployment of Accuray Systems, to proactive monitoring and unmatched on-site service, to ongoing updates and optimization, the Accuray Alliance service program helps ensure your practice enjoys maximum return on your investment.
Fast-track technical proficiency with your Accuray System and stay at the leading edge of best practices and clinical innovation for radiotherapy. Accuray renowned training program engages your core team early in the implementation process, ensuring your team is delivering the best possible patient care from day one. Robust – live or online – continuing education keeps your team connected with the latest radiotherapy knowledge and expertise, ensuring your practice is always getting the most from your Accuray System.
At Accuray, we're dedicated to providing comprehensive support and expertise through our Alliance service program. The Diamond Choice  service option provides a unique solution to keep your Accuray system  state-of-the-art. Diamond Points, bundled within your service agreement, can be used to purchase upgrades for your system – providing access  to the latest advances in radiation therapy technology while allowing  for more predictable budget planning.
Our customers have access to the best clinical, technical and economic practices. Our AERO® Community provides peer-to-peer access to fellow Accuray radiation oncology technology users for engaging discussions and access to scientific conferences, user group meetings and relevant publications.
Connect with an Accuray service expert.
Get the answers you need.