Learn How We Spur The Future Of Radiation Therapy Innovation
Innovative Radiotherapy with Radixact® System and Synchrony®
Real-Time Motion Synchronization
Over 15 years ago, Accuray revolutionized radiotherapy tumor and patient motion management with our Synchrony® real-time motion synchronization technology. Building on our proven expertise, we are bringing Synchrony* to the Radixact® System for real-time tracking and automatic motion synchronization. While others will use gating methods to compensate for motion, our Synchrony technology actively tracks and corrects for it. The expected outcomes? Shorter treatments, fewer side effects and higher quality of life.
Fiducial and fiducial-free targets cab be selected for tracking.
Advanced sequential kv imaging, taken at any angle, detects target movement during treatment.
REAL-TIME INTRAFRACTION CORRECTION
The system's ultra-fast binary MLC and dynamic jaws synchronize the treatment beam position to the newly detected or predicted target position in real-time — without any interruption of treatment.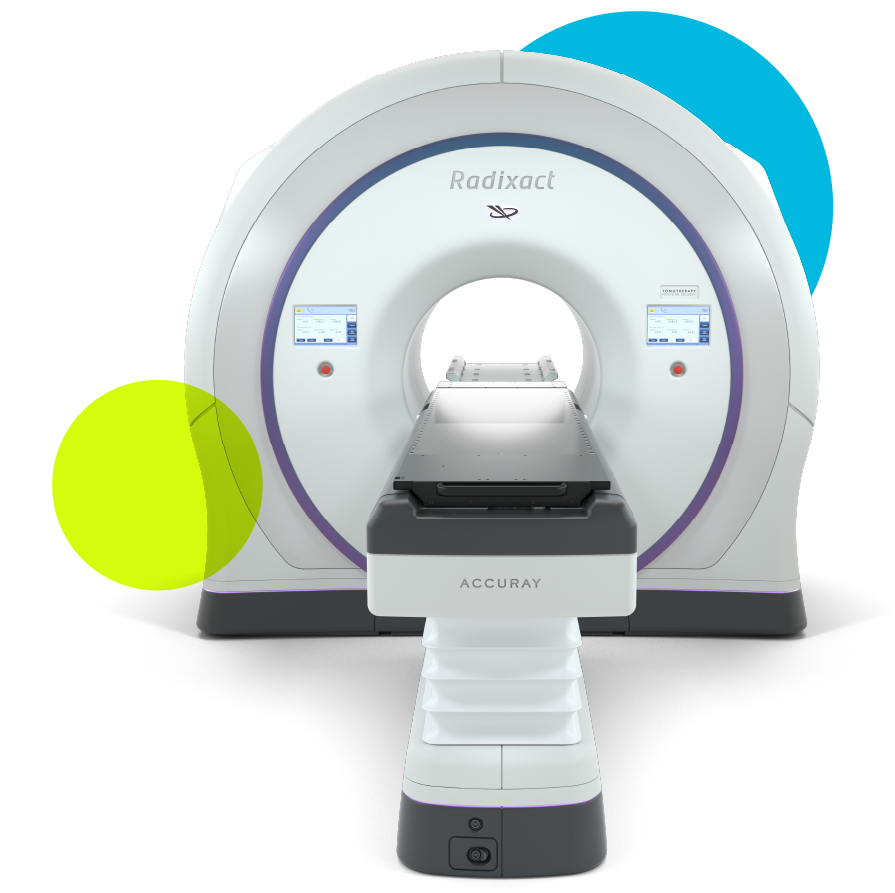 Radiation Treatment Delivery for Moving Targets – Seeing is Believing.
Why Not Synchronize Treatment Delivery with Motion
CyberKnife® VOLO™ Treatment Planning Optimizer
Over 95% Reduction in Optimization Time, up to 50% Faster Delivery
We recently unveiled the latest innovation from Accuray: the CyberKnife® VOLO™ Optimizer – the next-generation treatment planning optimizer for the CyberKnife System.
Watch CyberKnife VOLO – the Next-generation Treatment Planning Optimizer in Action
High-fidelity kVCT Imaging* to:
High-fidelity kVCT Imaging* to:
ClearRT will produce clear, high-fidelity kVCT images to provide soft-tissue visualization and clinical capabilities like no other RT system in the world.
ClearRT™ helical kVCT high-fidelity imaging will enable clinicians to see more, know more, and do more:
*ClearRT Helical kVCT Imaging for the Radixact® Treatment Delivery System is not available for sale in all markets. ClearRT may be subject to international regulatory approval or licensing processes such that the availability of these products may vary according to geographical location.
Presenting ClearRT™ Helical kVCT