Expands patient-first treatment like no other system in the world.
Image guided, intensity modulated radiation therapy (IG-IMRT), featuring best-in-class clinical workflows and highly conformal treatments enabled by a unique ultra-fast multi-leaf collimator (MLC).  The Radixact® System shapes radiation to the tumor while sparing normal, healthy tissue.
A proven platform. Radically expanded capabilities.
Patients reeling from diagnoses need precise and effective treatment to get their lives back. Treatment teams need next-level precision and efficiency to improve patient outcomes. Clinical practices need to deliver value-based care and treat a broad range of indications with superior outcomes. The Radixact® Treatment Delivery System enables all of this with a fully integrated platform for intelligent treatment planning, centralized data management and ultra-precise treatment delivery. Radixact uses refined x-ray beamline and unique high-speed multi-lead collimator, combined with next-generation CTrue™ IR imaging technology* to deliver treatments for patients with a wide variety of individual treatment needs — and now features Synchrony® real-time motion synchronization for targets that move during delivery.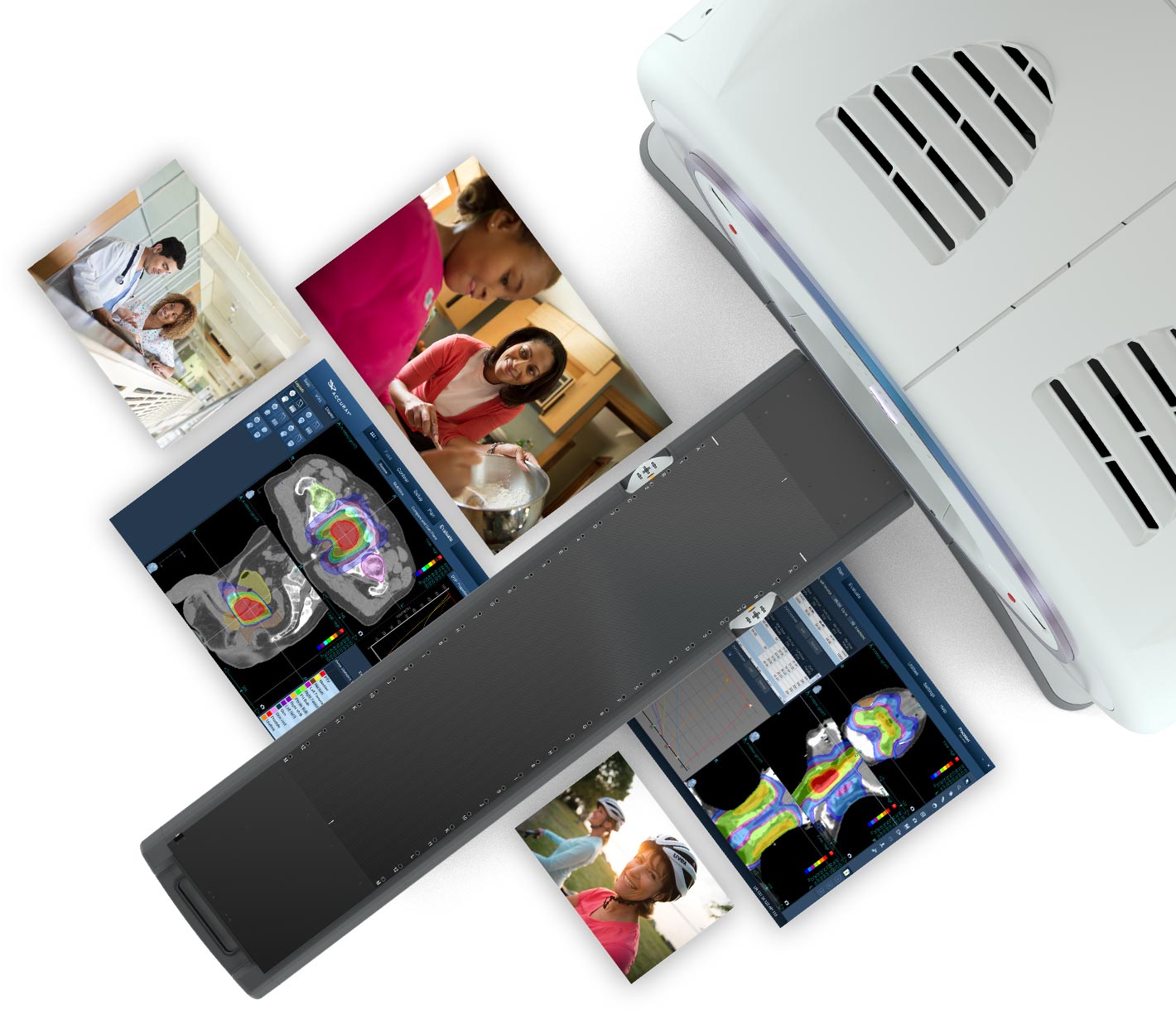 MORE EFFICIENT
Deliver the Highest Standard of Care to More Patients
Smart integration and automation accelerates treatment planning, while a high-output linear accelerator speeds treatment delivery.
MORE EFFECTIVE
Maximize Dose Delivered to the Target — with Fewer Side Effects
Best-in-class image-guided, intensity-modulated treatments, real-time synchronization with targets that move, and efficient adaptive planning capabilities give clinical confidence to maximize dose to the target while minimizing dose to healthy tissue.
Meet the Radixact System
Watch game-changing precision and versatility in action.
Explore the Radixact® System
See the new technologies and core features that take Radixact precision to entirely new levels.
TomoHelical vs RapidArc for Head and Neck Cancer
Read about the clinical outcomes when treating head and neck cancer with TomoHelical and RapidArc systems.
Drive Critical Change in Your Practice
Proven Platform
Numerous peer-reviewed publications and clinical studies support the TomoTherapy platform. The same results are expected with the Radixact System, the next-generation TomoTherapy platform, delivering the same highly conformal and homogeneous dose distribution faster with 18% higher dose rates and 66% faster imaging times.
Increase Patient Satisfaction
Give every patient the personalized precision they deserve. Efficiently create highly conformal plans that achieve results in fewer treatments. Leverage proven Synchrony® technology to automatically synchronize treatment delivery with target and patient motion — without interrupting treatment delivery or requiring uncomfortable patient restraints. Automated PreciseART® Adaptive Radiation Therapy workflows allow clinicians to easily identify candidates for re-planning, and make the use of individualized adaptive radiotherapy practical for more patients.
Protect Economic Stability
Leverage a single, workhorse platform to expand your treatable population and drive efficiencies across your practice. Deliver more precise and personalized treatments to every patient in less time, driving key patient outcomes while protecting your bottom line.
Build and Grow a Differentiated Practice
Stand out from the competition and drive a high volume of highly satisfied patients with uniquely precise and versatile treatment delivery capabilities. Radixact System empowers your treatment team to provide unrivalled treatment precision across an unprecedented range of indications, while making an exceptional patient experience a hallmark of your practice.
Content offer
text goes here
Subhead text
goes here and here.
Content offer
text goes here
Subhead text
goes here and here.
Content offer
text goes here
Subhead text
goes here and here.
Connect with a Radixact® expert.
Get the answers you need.