IGRT, featuring best-in-class clinical workflows and highly conformal treatments enabled by a unique ultra-fast multi-leaf collimator for precise delivery of SBRT and IMRT treatments. The Radixact® System treats a broad range of indications with ClearRT™ integrated 3D kVCT image guidance, Synchrony AI-driven, real-time target tracking with dynamic delivery, and VOLO™ Ultra optimization.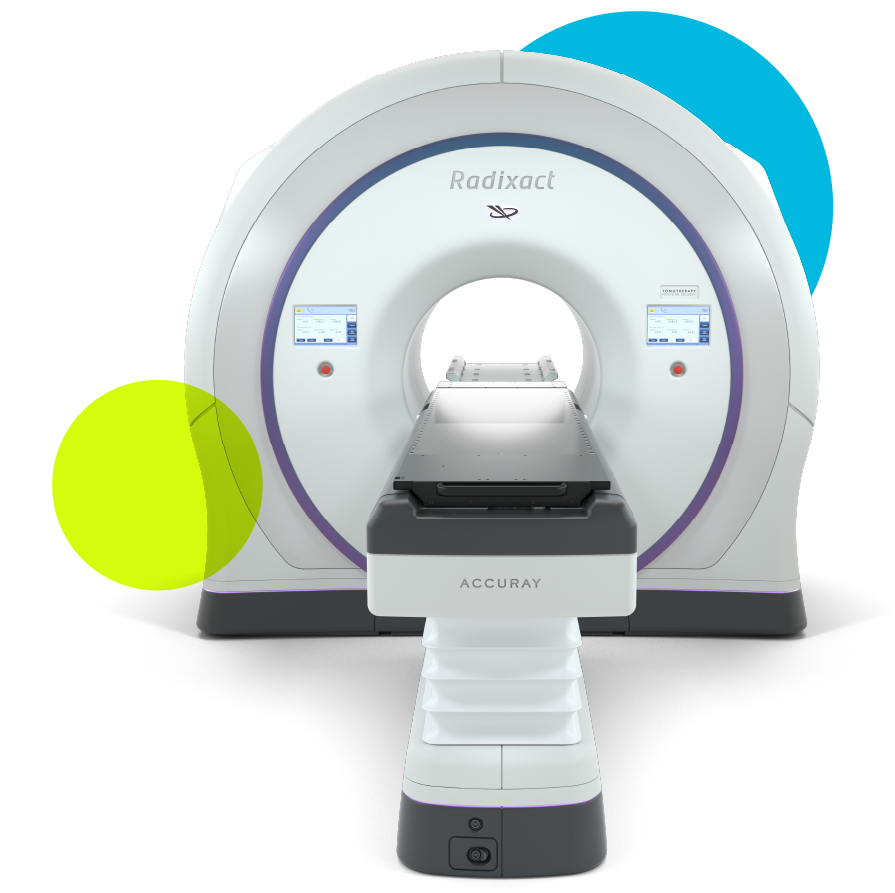 Continuous 360o precision
driving clinical efficiency.
Integrated clinical workflows, accelerated imaging, planning and delivery enable clinicians to achieve highly precise and fast treatments.​
Confidence in planning and delivering adaptive treatments.
Integrated helical fan-beam kVCT imaging, real-time motion synchronization and automated adaptive planning and dose monitoring make highly personalized, real-time adaptive radiotherapy treatment practical for every clinic and every patient.
Precisely treating virtually any indication and complexity.
True helical delivery and integrated wide-and long-field imaging facilitate the fractionation capabilities to treat a broad range of clinical indications with continuous 360o precision.
Fully integrated, helical kVCT fan-beam imaging for the Radixact® System — delivers high-fidelity imaging and soft-tissue visualization like no other radiotherapy system in the world, enabling clinicians to:
A new way of planning with Accuray Precision® Treatment Planning system architected to accelerate Radixact® and TomoTherapy® treatments. Creating an experience of simplicity, excellent plan quality and transformative speed for your helical delivery system.
Intuitive and automatic planning methods will streamline the workflow
Modern and fast gradient-based algorithm to provide optimal plan quality for every treatment
Drastic performance improvement to accelerate treatment planning and treatment delivery
Watch the on-demand webinar to get an inside look at how ClearRT™ has gone from bold vision to clinical reality:
Single Fraction SABR for lung Oligometastases - Dr. Vagge
The Radixact® System with Synchrony®
The Radixact® System with Synchrony®
Treating Lung Tumors with Precision Radiation on the Radixact® System
Treating Prostate Tumors with Precision Radiation on the Radixact® System
*VOLO™ Ultra Option for Accuray Precision® Treatment Planning System is 510k – Cleared. It is not CE marked and availability is subject to regulatory clearance or approval in some markets.
**ClearRT™ Helical kVCT Imaging for the Radixact® Treatment Delivery System is not available for sale in all markets. ClearRT may be subject to international regulatory approval or licensing processes such that the availability of these products may vary according to geographical location.