Precise robotic treatment as individual as every patient.
Deliver precise radiosurgery (SRS) and stereotactic body radiation therapy (SBRT) treatments anywhere in the body regardless of whether the target is stationary or moving.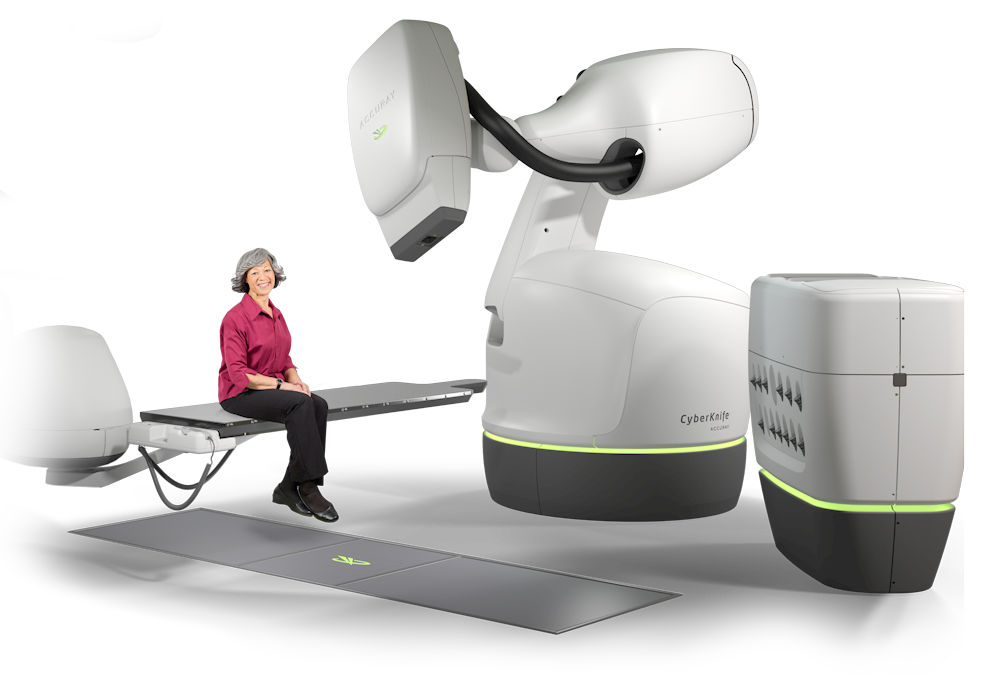 The Paradigm Shift Continues
The first and only radiotherapy system to offer robotic precision, the CyberKnife® System continues to reshape treatments and greatly expand versatility. A proven alternative to surgical intervention and conventional radiation therapy, the CyberKnife System differentiates from other radiation delivery devices by having a linear accelerator mounted on a robotic arm. This provides more flexibility and freedom of motion in how the radiation beams are delivered. The CyberKnife's integrated X-ray imagers provide continual image guidance and real-time tracking capabilities which ensure the radiotherapy treatment is highly accurate and precise. New innovations dramatically speed treatments and greatly expand versatility to cover the full range of indications.
SRS/SBRT
A Unique Approach to Robotic Radiosurgery and Stereotactic Body Radiotherapy
The CyberKnife System is designed for robotic radiosurgery and stereotactic body radiotherapy. Its precise tumor tracking abilities enable delivery of high doses of radiation in only a few fractions. The CyberKnife System is the only system with the proven ability to delivery SRS and SBRT while tracking and automatically correcting for motion. This gives both clinicians and patients confidence that the CyberKnife System is delivering the maximum dose to the tumor while minimizing healthy tissue exposure — minimizing side effects and maximizing patient comfort, without sacrificing efficiency or effectiveness.
Greater Precision
and Accuracy
Real-time Tracking and Correction
Patient Workflow
See Confidence in Motion with the CyberKnife M6 System.
VERSATILITY
Robotic Radiosurgery and Stereotactic Body Radiotherapy
Deliver robotic radiosurgery and stereotactic body radiotherapy anywhere in the body with true robotic precision. The CyberKnife M6 System, world's most advanced radiotherapy robot, delivers treatments in an industry-exclusive 3D workspace, subdivided into anatomy-specific paths. The CyberKnife System is capable of delivering thousands of non-coplanar or coplanar beam angles to either stationary targets or targets in motion.
CONFIDENCE
Real-time or dynamic tracking and correction
Precisely monitor patient and tumor motion in real time with automatic 6D motion compensation. Fully integrated, indication-specific tracking applications and constant intra-fraction position tracking and correction give you the confidence to aggressively attack tumors while preserving healthy tissue, thus minimizing side effects.
SPEED
Robotic multileaf collimator
Improve clinician and patient experiences with faster treatment times. The CyberKnife M6 System with InCise MLC gives you unprecedented ability to treat larger targets with fewer beams, in less time.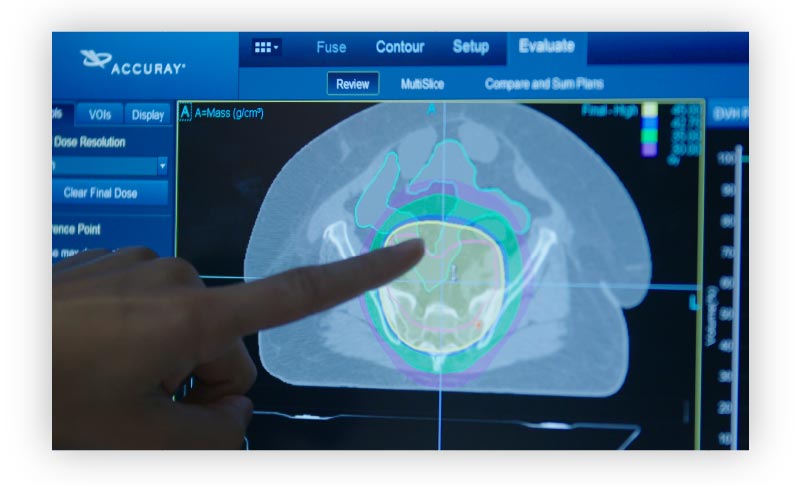 EFFICIENCY
Efficient stereotactic treatment planning
Simplify treatment planning workflows and free clinicians to deliver more personalized care to every patient. The Accuray Precision® Treatment Planning System provides centralized planning and control — fully integrated with all Accuray Systems. Leverage powerful features including industry leading PreciseRTX® Retreatment Option for streamlined re-treatment, industry-leading Autosegmentation™, multimodality image fusion with deformable image registration.
SIMPLICITY
Fully integrated patient data management
Empower your team to connect, share, analyze and leverage data to unlock collaboration opportunities, enable smarter treatment planning and drive more efficient workflows across your practice. The iDMS® Data Management System connects all Accuray treatment planning and delivery systems, providing a single, integrated control center for all patient and system data.
Connect with a CyberKnife expert.
Get the answers you need.
Connect with a CyberKnife expert.
Get the answers you need.