IGRT, featuring best-in-class clinical workflows and highly conformal treatments enabled by a unique ultra-fast multi-leaf collimator for precise delivery of SBRT and IMRT treatments. The Radixact® System treats a broad range of indications with ClearRT™ integrated 3D kVCT image guidance, Synchrony AI-driven, real-time target tracking with dynamic delivery, and VOLO™ Ultra optimization.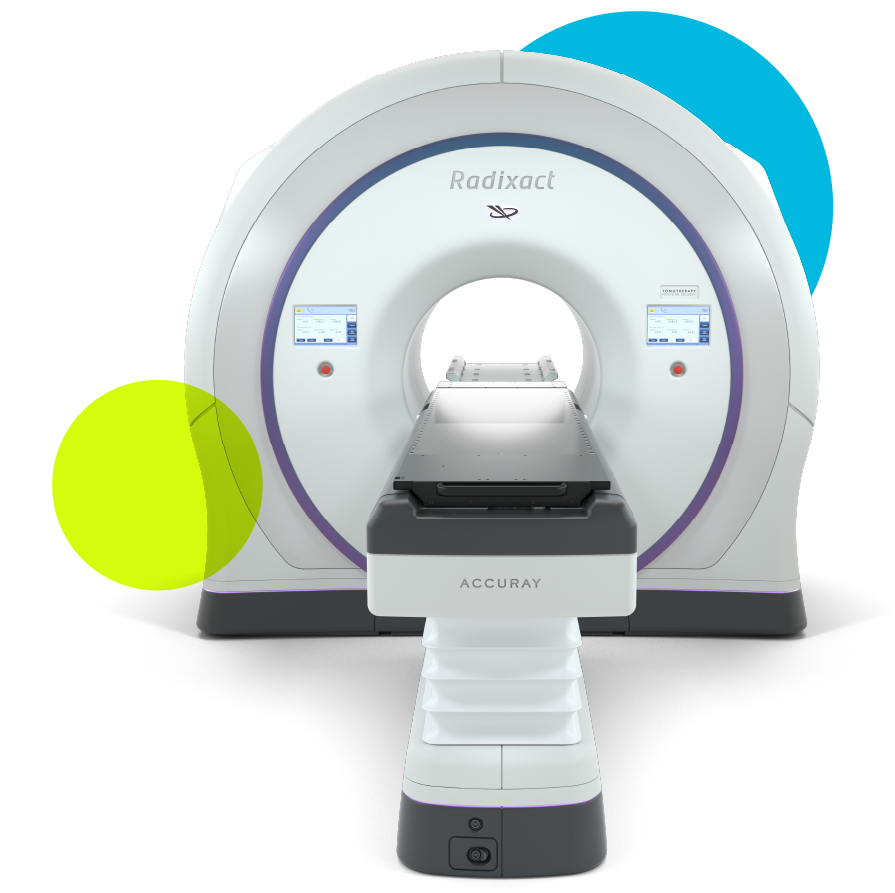 Continuous 360o precision
driving clinical efficiency.
Integrated clinical workflows, accelerated imaging, planning and delivery enable clinicians to achieve highly precise and fast treatments.​
Confidence in planning and delivering adaptive treatments.
Integrated helical fan-beam kVCT imaging, real-time motion synchronization and automated adaptive planning and dose monitoring make highly personalized, real-time adaptive radiotherapy treatment practical for every clinic and every patient.
Precisely treating virtually any indication and complexity.
True helical delivery and integrated wide-and long-field imaging facilitate the fractionation capabilities to treat a broad range of clinical indications with continuous 360o precision.
Now introducing VitalHold™ Breast Package*
Tattoo-free patient set-up and DIBH treatments enabled with surface-guided radiotherapy (SGRT)
Now treat virtually all breast cancer cases with the Radixact® System

The most comprehensive breast cancer treatment system to enable clinicians to provide excellent patient outcomes
A new way of planning with Accuray Precision® Treatment Planning system architected to accelerate Radixact® and TomoTherapy® treatments. Creating an experience of simplicity, excellent plan quality and transformative speed for your helical delivery system.
Intuitive and automatic planning methods will streamline the workflow
Modern and fast gradient-based algorithm to provide optimal plan quality for every treatment
Drastic performance improvement to accelerate treatment planning and treatment delivery
Watch the on-demand webinar to get an inside look at how ClearRT™ has gone from bold vision to clinical reality:
TomoHelical: Cardiopulmonary-related patient-reported outcomes in a randomized clinical trial of radiation therapy for breast cancer - PubMed (nih.gov)
TomoDirect:
Ultra-hypofractionated whole breast adjuvant radiotherapy in the real-world setting: single experience with 271 elderly/frail patients treated with 3D and IMRT technique - PubMed (nih.gov)
TomoHelical:
Cardiac Sparing with Personalized Treatment Planning for Early-stage Left Breast Cancer - PubMed (nih.gov)
The Radixact® System with Synchrony®
Prof Ricardi's and Dr Sugie's testimonial on the Radixact® System with Synchrony®
The Radixact® System with Synchrony®
Treating Lung Tumors with Precision Radiation on the Radixact® System
Treating Prostate Tumors with Precision Radiation on the Radixact® System
*VitalHold™ is 510(k) pending. VitalHold is not available for sale in the USA. It is not CE marked and availability is subject to regulatory clearance or
approval in some markets.