Expands patient-first treatment like no other system in the world.
The next-generation TomoTherapy® platform delivers: IG-IMRT treatments with the most streamlined clinical workflows and fully integrated treatment planning.
A Single Platform to Revolutionize Your Practice
Patients reeling from diagnoses need precise and effective treatment to get their lives back. Treatment teams need next-level precision and efficacy to improve patient outcomes. Clinical practices need the ability to treat a broad range of indications with superior outcomes. Reputation and patient lives are at stake. The Radixact® Treatment Delivery System enables all of this with a fully integrated platform for intelligent treatment planning, data management and treatment delivery. Using a refined x-ray beamline and next generation CTrue™ imaging technology, the system delivers scalable, highly precise treatment for patients with a variety of individual clinical needs.
REAL-TIME MOTION SYNCHRONIZATION
Personalized delivery in sync with target motion for every indication
The revolutionary Synchrony® technology* uses intrafraction imaging and AI-driven treatment delivery to adapt the delivery beam position to the tumor location precisely, accurately and at all times during the delivery of a treatment fraction. This enables no-tradeoff radiation therapy: continuous, uninterrupted dose delivery with tight margins and steep dose gradients while the patient behaves naturally. With Synchrony technology, clinicians are freed to choose the fractionation schedule that best meets their patients' clinical needs, knowing that effectiveness and efficiency of their treatment will remain unhindered.
The expected outcomes? Shorter treatments, fewer side effects and higher quality of life.
*Synchrony technology is an optional upgrade available for purchase by hospitals.
For the full range of oncology patients
The Radixact System is designed to provide unprecedented flexibility and provides treatment options for a wide range of possible indications:
Rotational and non-rotational radiation therapy
Image-guided, intensity-modulated radiation therapy (IG-IMRT)
Innovative TomoHelical™ rotational delivery mode
TomoDirect™ non-rotational delivery mode
TomoEDGE™ dynamic dose sculpting mode
Faster imaging and treatment delivery
The next-generation Radixact platform expands and enhances the proven treatment delivery capabilities of the TomoTherapy System, setting a new standard for speed, power and performance.
High-output linear accelerator
Next-generation CTrue IR image guidance
6MV system with integrated beamstop
Rapid system power-on-to-warm-up time
Powerful iterative reconstruction (IR) software produces high quality images to see soft tissue like never before. With CTrue IR, clinicians can scan, register and treat with confidence. Low-dose volumetric images and fast scan times enable healthcare providers to efficiently deliver precise, personalized care for their patients.
Smarter treatment planning
Simplify treatment planning workflows and free clinicians to deliver more personalized care to every patient. The Accuray Precision® Treatment Planning System provides centralized planning and control — fully integrated with all Accuray systems. Leverage powerful features including the PreciseART® adaptive therapy feature, AutoSegmentation™ (autocontouring of brain, head and neck, and male pelvis regions), multimodality image fusion with deformable registration and plan comparison/summing plans.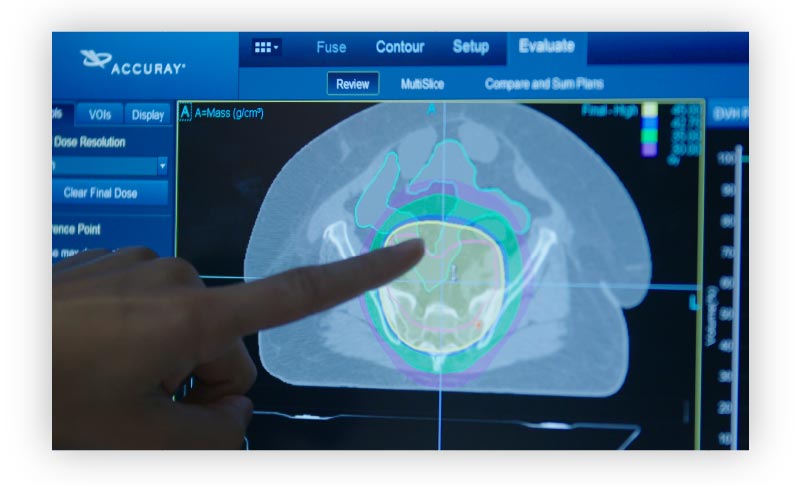 Fully integrated patient data management
Empower your team to connect, share, analyze and leverage data to unlock collaboration opportunities, enable smarter treatment planning and drive more efficient workflows across your clinical practice. The iDMS®Data Management System connects all Accuray treatment planning and delivery systems, providing a single, integrated control center for all patient and system data.
Connect with a Radixact expert.
Get the answers you need.