Deliver More.

Better. Faster.
Expanding the powerful potential of radiation therapy.
A new way of planning with Accuray Precision® Treatment Planning system that accelerates Radixact® and TomoTherapy® treatments. Experience the simplicity, excellent plan quality and transformative speed that makes your helical delivery system universal.
Fully integrated helical kVCT fan-beam imaging for the Radixact® System — delivers high-fidelity imaging and soft-tissue visualization like no other radiotherapy system in the world, enabling clinicians to: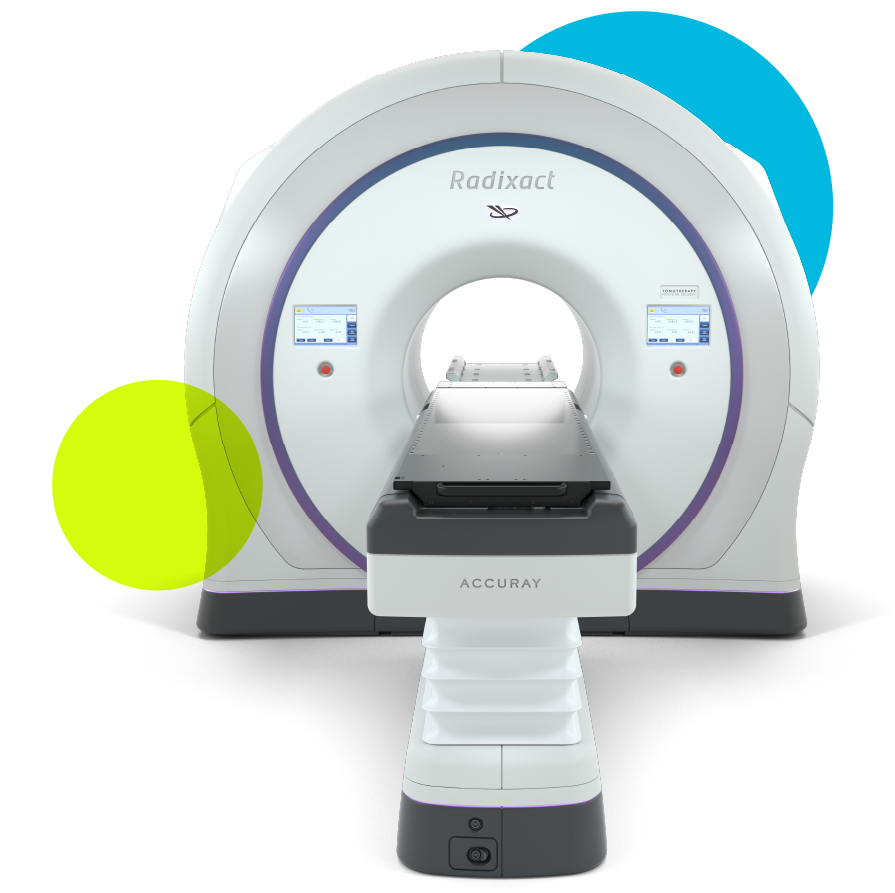 The curative power of helical imaging and delivery
See how the Radixact System is bringing transformative CLARITY to IG-IMRT — leveraging fully integrated, high-fidelity kVCT imaging and unique helical delivery to empower clinicians to see more, know more and do more, and delivering radical versatility, precision and efficiency in the treatment of virtually any indication and complexity.
*ClearRT Helical kVCT Imaging for the Radixact® Treatment Delivery System is not available for sale in all markets. ClearRT may be subject to international regulatory approval or licensing processes such that the availability of these products may vary according to geographical location.
Visit the Accuray Virtual Booth
SEE WHAT'S NEW
Get your first look at Accuray innovations:
Presenting the CyberKnife® S7™ System
The new CyberKnife S7 System is built from the ground-up to deliver sub-millimeter precision even for targets that move, giving clinicians the confidence to efficiently deliver hypofractionated radiotherapy treatments in as little as 15 minutes.
Presenting the Radixact® System
The Radixact System is the only radiotherapy system with helical imaging, helical delivery, and intrafraction motion synchronization functionality that offers the expanded versatility and increased precision to treat the widest range of cases from simple to
the most complex .
Motion Synchronization & Real-Time Adaptive Radiotherapy
Get a look at the new paradigm in treatment delivery: real-time tracking, detection, and delivery adaptation for targets that can or do move utilizing Synchrony® for the Radixact® and CyberKnife® Systems.
Realizing the Promise of Hypofractionation
Learn how Accuray technologies are making hypofractionation a practical and efficient treatment modality for more practices and more patients.
On-Demand Treatment Planning Demos
Live, interactive demos of the Accuray Precision Treatment Planning System demonstrate the powerful efficiencies of a fully integrated planning system.
Choose a day to see available demo times *All demos in English unless specified
Interactive Radixact® Virtual Experience
Miami (ET):
9:30am  |  10:30am  |  11:30am  |  12:30pm  |  1:30pm  |  2:30pm  |  3:30pm  |  4:30pm  
Geneva (CET):
2:30pm  |  3:30pm  |  4:30pm  |  5:30pm  |  6:30pm  |  7:30pm  |  8:30pm