Deliver More.

Better. Faster.
Expanding the curative power of radiation therapy.
A new way of planning with Accuray Precision® Treatment Planning system architected to accelerate Radixact® and TomoTherapy® treatments. Creating an experience of simplicity, excellent plan quality and transformative speed for your helical delivery system.
Intuitive and automatic planning methods will streamline the workflow
Modern and fast gradient-based algorithm to provide optimal plan quality for every treatment
Drastic performance improvement to accelerate treatment planning and treatment delivery
Fully integrated, helical kVCT fan-beam imaging for the Radixact® System — delivers high-fidelity imaging and soft-tissue visualization like no other radiotherapy system in the world, enabling clinicians to: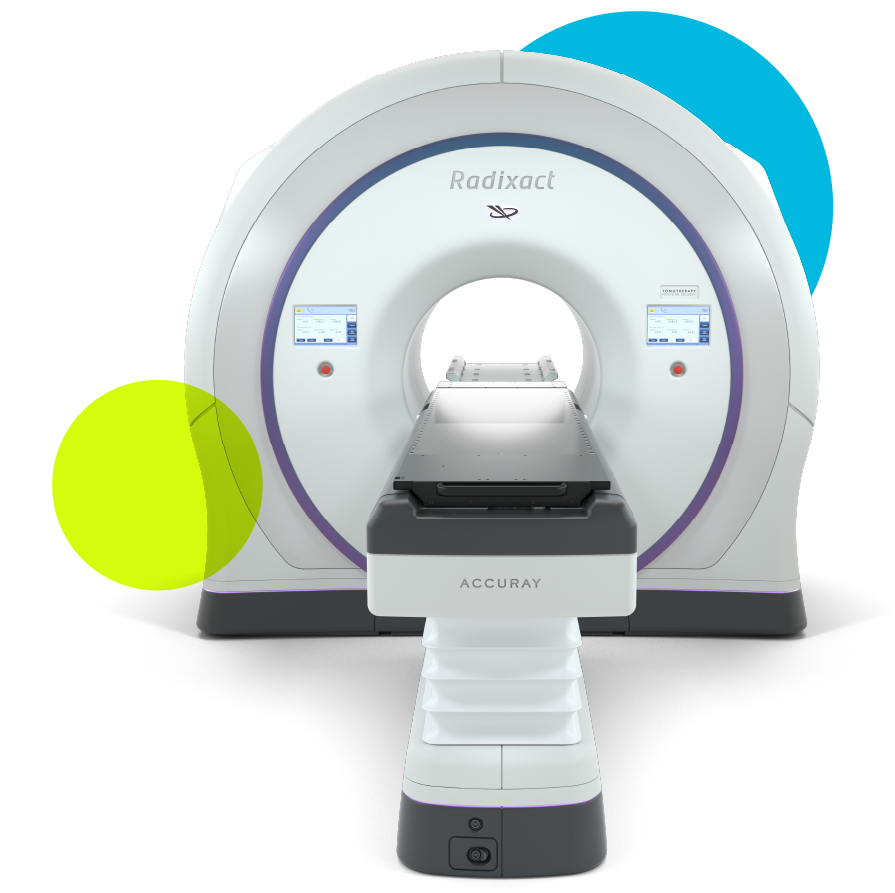 The Next Evolution
of the Radixact® System
Accuray advanced IG-IMRT to a new level with the Radixact® System. Now, we're introducing ClearRT helical kVCT high-fidelity imaging, an innovation that captures the full promise of our unique helical platform.
Real-World Impacts of the CyberKnife® S7™ System
Hear directly from two renowned radiotherapy experts who are leveraging the revolutionary speed, precision and motion synchronization of the new CyberKnife S7 System to deliver precise, hypofractionated SBRT treatments for a wider range of patients and indications — in as little as 15 minutes.
Introducing Synchrony® with Simulation Mode
Get an exclusive look at how Synchrony technology achieves the world's only real-time motion synchronization, unlocking a new paradigm in radiotherapy: real-time adaptive treatment delivery, without compromise. Hear from two innovative clinicians already putting the Radixact® System with Synchrony to work.
*VOLO™ Ultra Option for Accuray Precision® Treatment Planning System is 510k – Cleared. It is not CE marked and availability is subject to regulatory clearance or approval in some markets.
**ClearRT™ Helical kVCT Imaging for the Radixact® Treatment Delivery System is not available for sale in all markets. ClearRT may be subject to international regulatory approval or licensing processes such that the availability of these products may vary according to geographical location.