Introducing the CyberKnife® S7™ System
No Trade-Off Radiation Therapy* All the Time
Capabilities to Confidently and Effectively Escalate Dose
The CyberKnife S7 System provides practices and clinicians critical capabilities to deliver personalized stereotactic radiosurgery (SRS), stereotactic body radiotherapy (SBRT), and hypofractionated radiotherapy treatments confidently, effectively, and efficiently.
These critical capabilities provide key benefits to allow practices to survive and thrive in the changing clinical and financial landscape.
Fast installation, planning and delivery.
The CyberKnife S7 System is built for speed to provide the operational efficiency and patient throughput required to drive financial success and outstanding patient outcomes.
The shortest all-in installation time for a dedicated SRS/SBRT system, at 32 days, means ramp up time until first patient treatment is short


Intuitive, industry standard planning, optimized in as little as a minute, enables interactive plan evaluation, perfection, and same day treatment delivery


Motion synchronized, (ultra) hypofractionated treatments, delivered in as little as 15 minutes, provide the throughput required to be successful in today's clinical ecosystem
Accurate, sub-millimeter, stereotactic treatments anywhere in the body.
The CyberKnife S7 System provides best-in-class precision and accuracy enabling confident dose escalation and hypofractionation without sacrificing delivery speed, workflow efficiency, patient comfort, or clinical outcomes.
The world's only robotic linear accelerator enables treatment delivery from thousands of possible non-coplanar beam angles; avoiding delivery through critical structures, minimizing dose to healthy tissue, providing steep dose gradients, and potentially reducing toxicity and side effects


Real-time image guidance and robotically controlled beam positioning provide best in class, submillimeter delivery precision and accuracy for all indications enabling the dose escalation capabilities that are requirements for SRS and SBRT treatments


Delivery with outstanding agreement to the treatment plan ensures that critical plan objectives are met when treating targets, providing confidence to reduce margins and the ability to retreat previously irradiated targets
Personalized delivery in sync with target motion for every indication.
The CyberKnife S7 System with Synchrony® is the only system in the world to provide motion synchronized, real-time treatment delivery adaptation for all indications and treatments unleashing the speed and precision of the CyberKnife S7 System for the treatment of any type of moving target.
Synchrony utilizes artificial intelligence (AI) to adapt treatment delivery in real-time to patient and/or target movement without human intervention allowing CyberKnife S7 treatments, with the push of a button, to be delivered continuously, efficiently, and without disrupting standard workflows


Synchrony ensures that delivery is personalized to the patient's unique state throughout treatment, not just at simulation or the start of treatment, allowing the CyberKnife S7 to provide excellent plan agreement, maintain its leading accuracy and precision, and minimize dose to healthy tissue for moving targets


Synchrony is a critical enabler of dose escalation and hypofractionation for moving targets because clinicians can create significantly smaller margins than with all other motion management techniques
Introducing the CyberKnife S7 System
Confident Hypofractionation For All Indications
The CyberKnife S7 System provides the ability to hypofractionate, with complete confidence, treatment to targets anywhere in the body. The CyberKnife S7 System has best-in-class accuracy and plan agreement, even for targets that move during treatment, giving clinicians the comfort to reduce margins and escalate dose while minimizing dose to healthy tissue and organs at risk to potentially improve patient safety.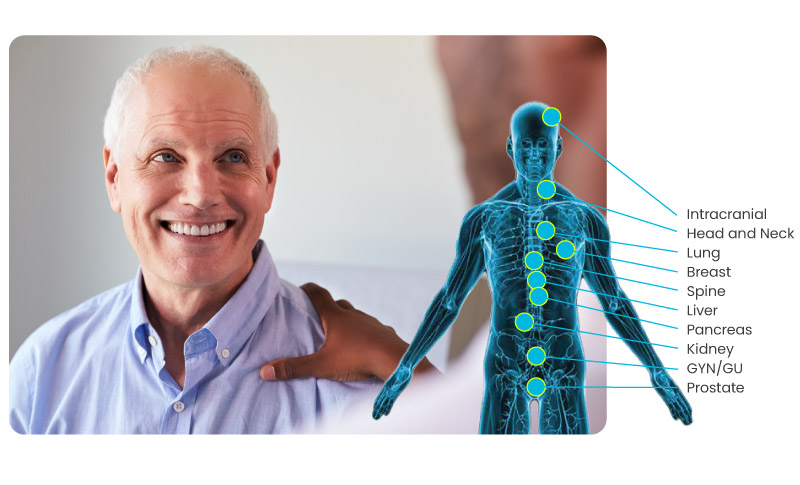 Fast, Reliable, Precise, & Accurate1, 2, 3
The CyberKnife S7 System is reliable and fast, meeting requirements in value-driven healthcare markets. With a best-in-class uptime guarantee coupled with speedy planning and delivery, the CyberKnife S7 System exceeds the precision and accuracy requirements for hypofractionated treatments while delivering truly personalized treatments in as little as 15 minutes. The CyberKnife S7 System does not sacrifice or trade-off precision, accuracy, and/or patient comfort for speed like conventional systems and requires no significant changes in clinical workflow.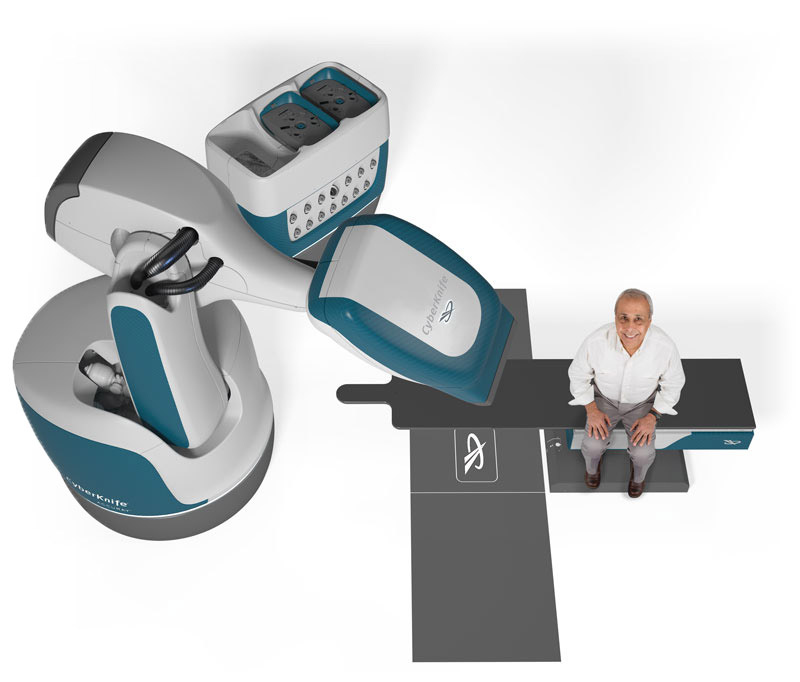 Workflow Automation & Error Reduction
Conventional treatment systems require repetitive and remedial manual tasks, such as couch kicks and patient repositioning during treatment, which when strung together in a workflow are prone to inducing accumulated and unintended errors. The CyberKnife S7 System is a fully automated, AI-driven, treatment delivery system with real time motion adaptation. With a single button press, personalized, motion synchronized, and highly accurate treatment can be fully completed. This potentially reduces or eliminates errors that must be accepted with other systems, reduces manual tasks, and allows for focus on the most important aspects of treatment.
Hear from the World's First CyberKnife S7 User
Get the answers you need.
*No trade-off radiation therapy refers to trade-offs between margin size, treatment delivery efficiency, and patient comfort typically required with conventional motion management techniques, but that are not required when using Synchrony.
References:
1. Tomas Kron, Reduction of margins in external beam radiotherapy, Journal of Medical Physics (Vol. 33, Issue 2.)
2. Brandner ED, Chet t y IJ, Giaddui TG, Xiao Y, Huq MS. Motion management strategies and technical issues associated with stereotactic body radiotherapy of thoracic and upper abdominal tumors: A review from NRG oncology. Med Phys. 2017 Jun;44(6):2595-2612. doi: 10.1002/mp.12227. Epub 2017 Apr 20
3. Laviana A, et al. Utilizing time-driven activity-based costing to understand the short-and long-term costs of treating localized, low-risk prostate cancer. Cancer. 2016 Feb 1;122(3):447-55.
Important Safety Information
Most side effects of radiotherapy, including radiotherapy delivered with Accuray systems, are mild and temporary, often involving fatigue, nausea, and skin irritation. Side effects can be severe, however, leading to pain, alterations in normal body functions (for example, urinary or salivary function), deterioration of quality of life, permanent injury, and even death. Side effects can occur during or shortly after radiation treatment or in the months and years following radiation. The nature and severity of side effects depend on many factors, including the size and location of the treated tumor, the treatment technique (for example, the radiation dose), and the patient's general medical condition, to name a few. For more details about the side effects of your radiation therapy, and to see if treatment with an Accuray product is right for you, ask your doctor.